Our treats are available during the COVID-19 outbreak.
We are open for sit-down service.
Business Hours:
Monday - Friday: 9am - 6pm
Saturday & Sunday: 9am - 3pm
In order to respect current state guidelines, we have limited seating available. We ask that all customers respect social distancing and wear a mask while in the bakery.
I know it is a difficult time in the world for many people right now and I'd like to do my part to add joy during these hard days. I will be cleaning and sanitizing more around the bakery. Please understand any disruptions this might bring, as it might be just me in the bakery. Know you can always stop in for a treat as all are welcome here. I appreciate your support & together we will get through these times.
For those wishing for things to be a little sweeter right now, we have a few options we are offering:
Delivery Options – You can order delivery from Grubhub, Postmates, Uber Eats, or Doordash.
Treat it Forward – Stop in & purchase a $5 treat for someone else who comes in.
Gift Certificates – call the bakery at 503-339-3187 to order & pay for a gift certificate to use at a later date. I will mail the certificate to an address of your choice.
Order Over the Phone / Curbside Pickup – Call the bakery and I can put your order together & bring it to you outside.
I appreciate all your support during these times. Now is the time to stick together.
The Best Bakery in Beaverton, OR
What makes my bakery unique? To begin, I sell delicious baked goods and sandwiches that also happen to be vegan! Also, I include a touch of my Scandinavian culture into everything I bake, and I employ individuals who, like me, have visual and other disabilities! Our staff puts the ABILITY in disability by serving the Beaverton community and baking everything with passion. I hope you'll stop by for a vegan snack soon!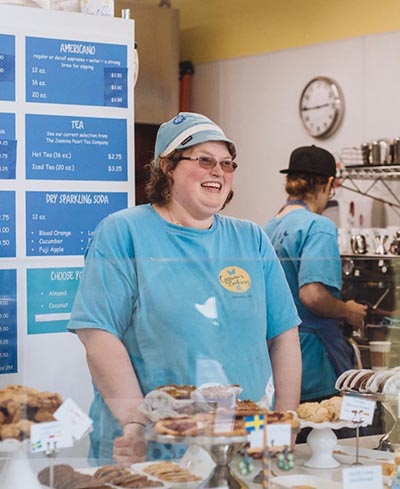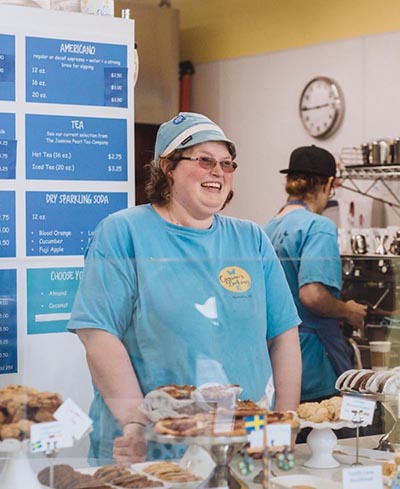 THE POWERFUL ABILITY IN DISABILITY
When you visit Carina's Bakery in Beaverton, you may not realize that many of the staff are mentally or physically disabled. You may notice Carina's seeing eye dog, Sutter, sitting under the counter, or notice the audio talk back on our register. These help our staff bring you the many tasty vegan items that fill our counter.
It's estimated that only 37% of blind or visually impaired adults have full time employment. Carina's Bakery is proud to play a part in changing that reality by hiring many visually impaired employees and by setting an example for other businesses in the community.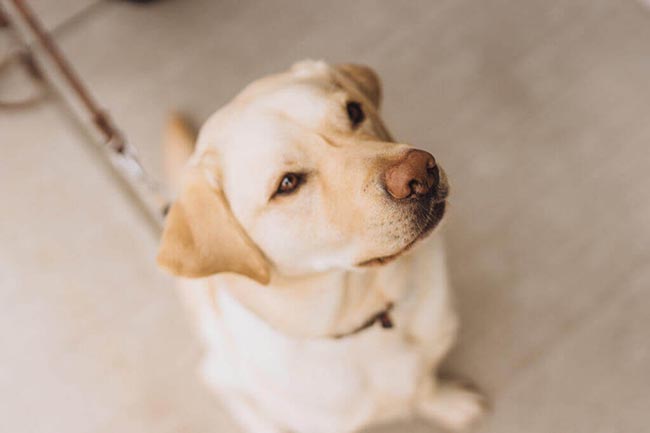 This sweet guy is Sutter. Many people who know Carina may not know she is legally blind. Sutter does the important job of helping Carina navigate with her limited field of vision, and his spunky energy only brings more joy to Carina's Bakery. 
Carina and Sutter met 3 years ago, at Guide Dogs for the Blind. When he's not fearlessly helping her navigate into the big unknown, you can find him snuggling and cuddling with her. Without Sutter, Beaverton may never have had the chance to enjoy Carina's many delightful vegan food. Not all hero's wear capes.
Join me in creating vegan treats that tell a sensational story and in bridging a community of food lovers of all shapes, sizes, and abilities. Together, we can find the spark, innovator, and food lover in all of us.