My name is Carina Comer. I've been told I have a drive and dreams far beyond my age, but I just see the world a bit differently than most. Literally. I was born to family of Connecticut-bound Swedes and Irish – adventurers, givers, entrepreneurs, and workhorses. They led life with positivity, strength, and great expectations; all of which I aspire to. But a brain tumor started me down a road that made those goals a whole lot harder before I even took my first steps. I lost more than half my vision and became a sort of basket case for endocrinology and the medical field in general. My childhood was an upward climb steeper and more twisted than most, with cancer rearing its ugly head at unexpected intervals and with lasting after effects in balance, learning, and well, living the life of a happy, social kid.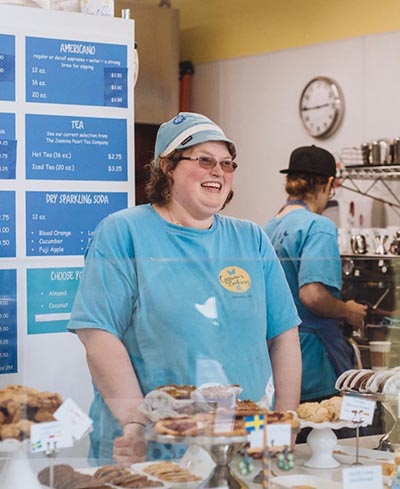 The Powerful Ability in Disability
When you visit Carina's Bakery in Beaverton, you may not realize that many of the staff are mentally or physically disabled. You may notice Carina's seeing eye dog, Sutter, sitting under the counter, or notice the audio talk back on our register. These help our staff bring you the many tasty items that fill our counter.
It's estimated that only 37% of blind or visually impaired adults have full time employment. "Carina's Bakery is proud to play a part in changing that reality by hiring many visually impaired employees and by setting an example for other businesses in the community."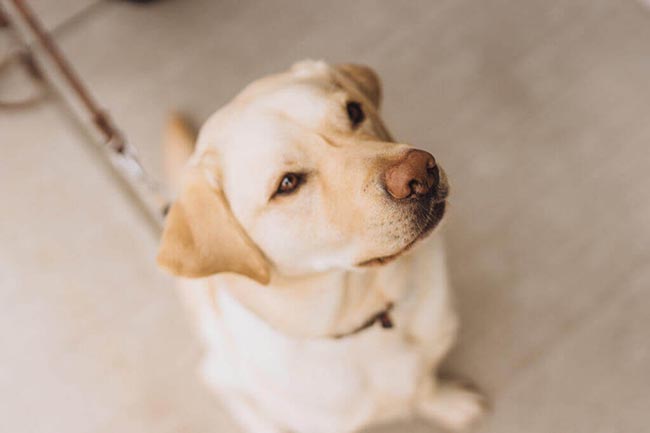 This sweet guy is Sutter. Many people who know Carina may not know she is legally blind. Sutter does the important job of helping Carina navigate with her limited field of vision, and his spunky energy only brings more joy to Carina's Bakery. 
Carina and Sutter met 3 years ago, at Guide Dogs for the Blind. When he's not fearlessly helping her navigate into the big unknown, you can find him snuggling and cuddling with her. Without Sutter, Beaverton may never have had the chance to enjoy Carina's many delightful creations. Not all hero's wear capes.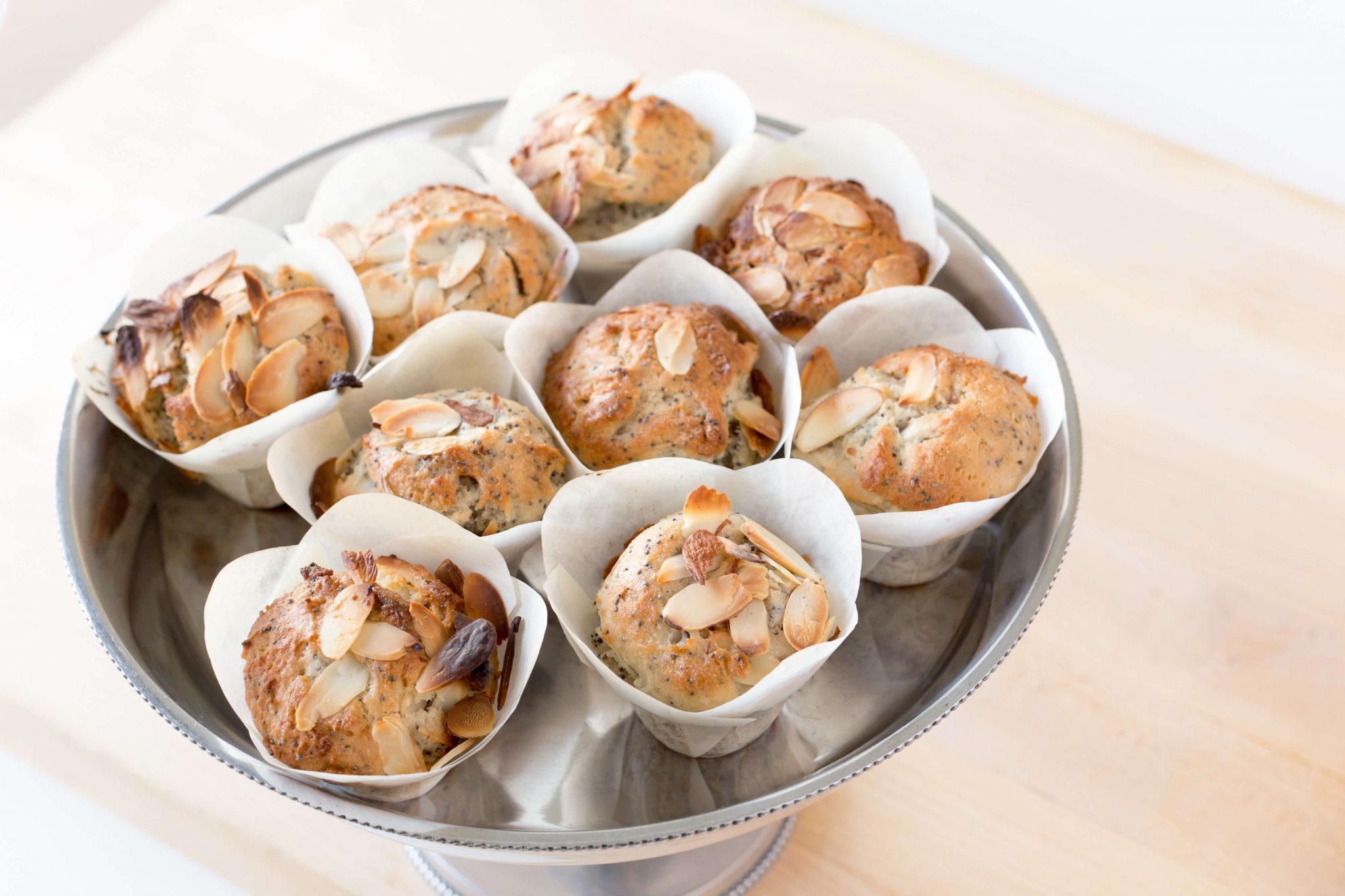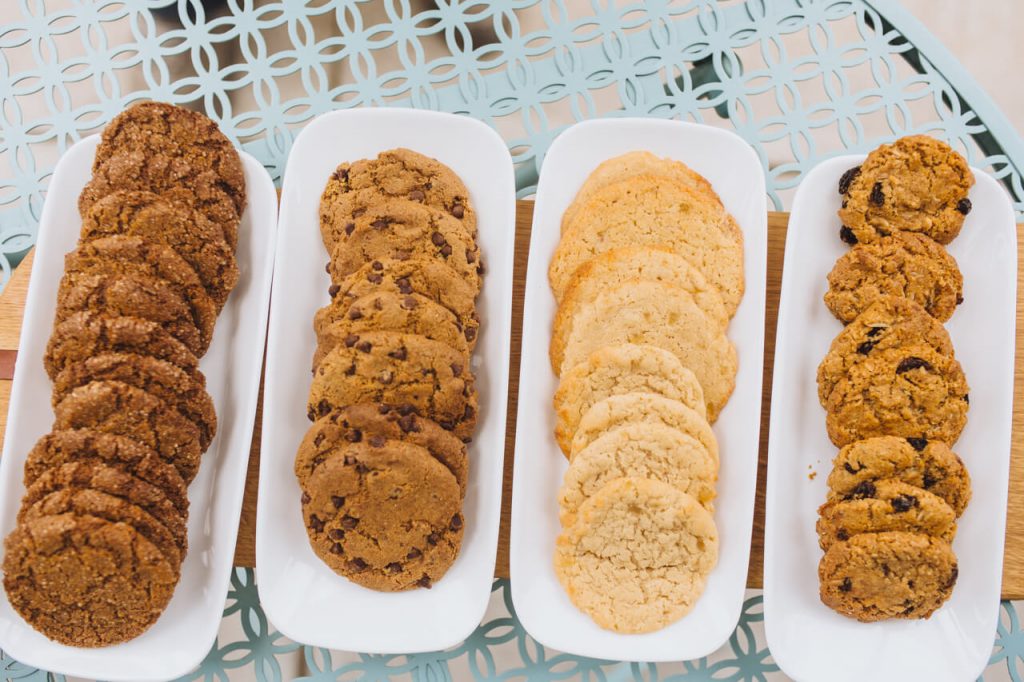 And so, I turned to baking. Perhaps it started in defiance of 500-calorie diets and equally ridiculous efforts to boost my non-existent metabolism, or perhaps to honor the memories of the Swedish store my grandfather built and founded our family on.
Either way, I was never happier than when my hands were deep into the jar of chocolate chips or rolling tiny balls of Christmas cheer. I reveled in the ritual of combining just the right amount of flour, sugar, spice and heat. With a little magic, a boosted sense of flavor, and a patience to create the perfect taste, I turned out sweet morsels that put smiles on any face honored to eat them. Mom and I found opportunities to bake around every corner, and with it the chance to offer a homemade, thoughtful piece of our souls.
I think perhaps that my own struggles and the purpose of creating joy made them taste better. But the world of professional pastry is far different than home baking as a hobby- a fact I discovered as soon as I moved on from peddling molasses crinkles and cardamom bread from a tricycle up to competing for respect and potential inside of state of the art school kitchens and tiny bakeries. I'm out to make a place for all sugar-loving passionistas.
Add a Cup of Swedish Heritage
I want to remember and celebrate the people and traditions that made my story possible. It comes from the homeland of treasured family recipes inside cozy cottages in the frozen northland of Sweden, to the bootstrapped, no-nonsense livelihoods and businesses developed from the ground up in Connecticut in hopes of achieving the American Dream, to my own journey towards independence, friendship, and culinary abundance in the lush land of Oregon. My Swedish grandfather instilled tenacity, responsibility, and risk taking in me, all with an eye towards respecting and improving upon family and tradition. I learned classic family recipes through his values and Mom's hands, and saw how the simple, plebeian ingredients available to my Swedish ancestors could be rolled into one-bite gifts of time and love that spoke of its maker and evolved over time. Here and there, exotic spices shake things up, and bright herbs preserve the fleeting summer in fresh snaps of flavor to be enjoyed and shared with friends over heartwarming sips of coffee.
The Vikings delivered gifts of the world upon the isolated Nordic world, creating tastes and traditions that mingled with a communal, respectful way of living that has evolved and made its way to me and that I can't wait to share with you, in my own unique way.
Develop a Full Structure of Ethics
In classic Oregon style, I don't quite leave things alone or ordinary. After all, baked goods take time and deserve to be a piece of ones self. I am a foodie who loves to absorb the world around me and pour it into perfectly balanced recipes, takes on those traditions. In addition to the filberts, marionberries, tea, and spice that make my recipes sing, that sense of responsibility, of ethical practices, have evolved in my life and baking. I choose not to include any ingredients derived from animals in my products, as I believe they should have the same opportunity for living optimally and with the full respect I want for myself and people like me. My treats should build an inspiring story with each ingredient and each hand it takes to build and deliver it, and make those who eat it want to find out more. Eating vegan is a step towards a compassionate, connective, and innovative life, and removing dairy, eggs and, additionally, soy from our shelves makes our treats more accessible to everyone. I'll show you how delicious it can be!
Tomorrow is full of unknowns, so why not live to full enjoyment and inclusion today? Carina's Bakery aims to show how people with a passion can do anything, and together we can innovate, pool resources, ideas and determination to create delicious treats and a better community. I build upon the drive, determination, and adventure instilled within me and the Swedish recipes I hold dear, and show how blindness, cancer, or whatever may ail people like me are just kinks in the path of life, not a reason for exclusion, pity or depression. Someday, I hope we can grow to become a blossoming book of culinary careers with a technical school that facilitates connectivity, cooperation and food innovation to willing students of all abilities.