Carina's bakery is here to provide vegan snacks, treats, and heartier options to your next work party or event! We have a variety of sweet and savory platters which will leave everyone satisfied. We'd also be more than happy to make a custom vegan recipe or assortment of items that you've been craving. Give us a call at 503-339-3187 or contact us with your event details!
Seasonal and steadfast favorites that provide hearty or refreshing ways to start the morning with options like our cakey Tarragon Temptation Scones, healthy Northwest Bran Muffins, and
much more. Each platter comes with 2-4 varieties of pastries, which can be customized with advanced notice.
Small Platter (Serves 10-12): $32
Medium Platter (Serves 15-18): $48
Large Platter (Serves 20-24): $63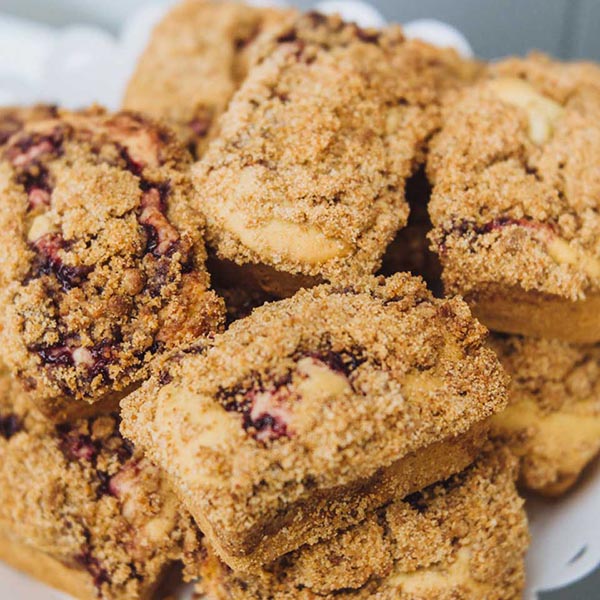 (open-faced sandwiches & works of art to energize your workforce)
Rotating seasonal compilations that include chickpea salad, carrot lox, cool cucumber, pastramied beet, and more! Gluten free bread or house-made limpa and other customization provided
depending on availability.
Small Platter (Serves 7-10): $45
Medium Platter (Serves 12-15): $66
Large Platter (Serves 18-20): $85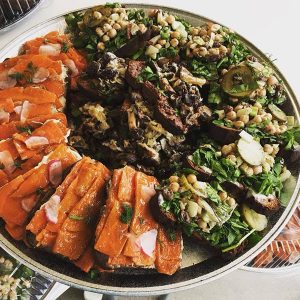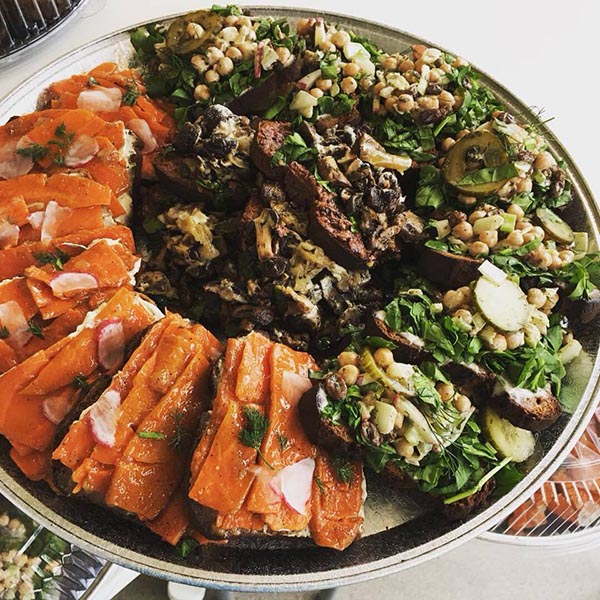 A cookie or two makes for happy people! Whether buttery shortbread (yes, even vegan cookies can be buttery & delightful–ask our customers and try one), decadent gluten free CC's Chippers, or nutty and healthy like Morfar's Raisin Cookies, we have something for you!
Small Platter (Serves 10-12): $28
Medium Platter (Serves 15-18): $39
Large Platter (Serves 20-24): $52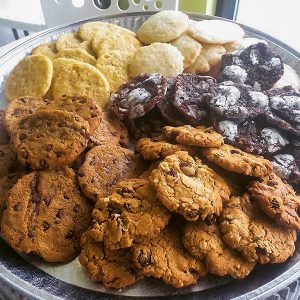 Note: These packages are priced based on use of disposable trays and
coffee carriers. If you would like to rent fancier trays and air pots, please contact us!
Some of our offerings
Cookies
CC's Chippers (gf)
Chocolate Cinnamon Crinkles
Lemon Ginger Gems ©
Molasses Crackles (gf)
Pepparkakor Shortbread (gf)
Pistachio Pizzazz Shortbread (gf)
Morfar's Raisin Cookies (gf), ©
Sutter Butter Snickerdoodles NUTS ©
Vanilla Lime Shortbread (gf)
Scones
Coconut Almond © NUTS
Nordic Chocolate ©
Spice of Life Pumpkin ©
Tarragon Temptation Scones ©
Muffins
Almond Poppy (gf) NUTS
Apple Anise (gf)
Fall Glory (squash, cranberries, NUTS)
Northwest Bran (NUTS)
Other Pastries
Apple Brownies (gf)
Caramelita Bars (gf) ©
Coffeecake ©
Jam Bars (gf)
Just Banana Bread (gf, low sugar)
Lemon/Orange Creamsicle Bars (gf) ©
Scandinavian Almond Cake (gf) ©
Scandinavian Breakfast Buns ©
All items are vegan and soy free.
(gf) = gluten free, NUTS = contains nuts
© = contains coconut products