Attract more customers with flavor-packed, inspiring vegan options! Whether you want to order packaged goodies like almond cake, unbelievably buttery vegan shortbread, and carrot lox; or you want to create a stunning four star vegan dish to add to your restaurant menu, we are here to help.
Menu Consulting
Carina has an MBA and a pastr`y degree – so whether you're looking to add vegan items to your menu, or just need some tips on how to fine tune your menu, Carina can help. Portland is known as catering to every type of dietary restriction, so if your restaurant does not have alternative options for vegans and vegetarians, you're one step behind the game. With dishes like Cardamom Pear Bread Pudding, Lavender Creme Brulé, Radish Poke, and White Bean Gnocchi you'll have recipes and guidance for pleasing every vegan who walks through your door.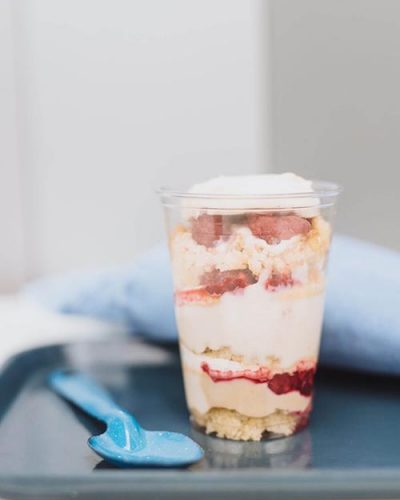 Wholesale Baked Goods
Add our stunning vegan challah, energizing no-sugar-added banana bread, and fan favorite Scandinavian Almond Cake to your cafe menu or store offerings. Below is just the beginning of what we can offer you, givne storage and shelving constraints
To learn more about our wholesale options or place an order today, please call the bakery at 503-339-3187 and ask for Carina. Or send an email to hello@carinasbakery.com. We look forward to hearing from you!
Delivery
4.9 Miles or less: $0 with over $100 purchase
5-10 Miles: $15
10-20 Miles: $25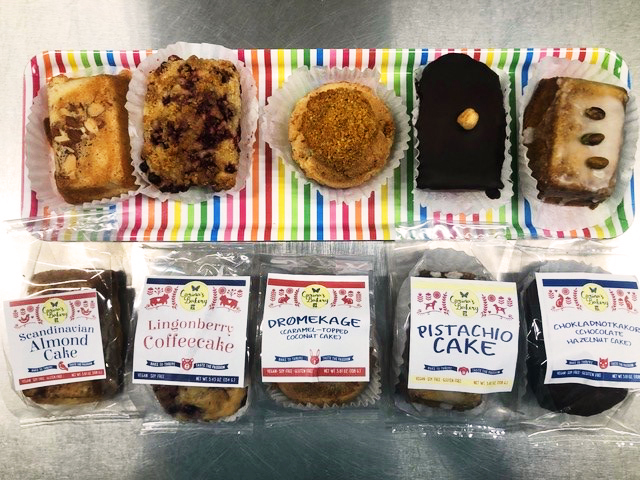 CC's Chippers
Lemon Ginger Gems
Morfar's Raisin Cookies
Pepparkakor Shortbread
Pistachio Pizzazz Shortbread
Sutter Butter Snickerdoodles
Vanilla Lime Shortbread
CC's Chippers
Chocolate chip cookies w/ hint of coffee.
V, GF, SF | Storage: Room temp, freeze for longer holding up to 6 months
Unit Size
Units/Case
Price/Case
Suggested Retail/Unit
Packaging
Max Shelf Life
bag of 8
12
$81.00
$9.00
heat-sealed poly
14 days
2 pack
25
$50.00
$2.50 – $3.00
heat-sealed poly
dozen
n/a
$10.50
$1.25
none/boxed
7 days
Lemon Ginger Gems
Morfar's Raisin Cookies
Pepparkakor Shortbread
Pistachio Pizzazz Shortbread
Sutter Butter Snickerdoodles
Vanilla Lime Shortbread
Scandinavian Almond Cake
Chokladnötkaka
Pistachio Cake
Drømekage
Lingonberry Coffeecake
Pepparkakor Cake
Cupcakes
Scandinavian Almond Cake
Mini loaf cakes (3.75″ by 1.75″ z1″) that have a crunchy outside with soft, chewy inside and caramel and almond notes even nut-haters love.
V, GF, SF | Storage: Room temp, freeze for longer holding up to 6 months
| | | | | | |
| --- | --- | --- | --- | --- | --- |
| Unit Size | Units/Case | Price/Case | Suggested Retail/Unit | Packaging | Max Shelf Life |
| each | 12 | $44.00 | $5.00 -$5.50 | heat-sealed poly | 7 – 10 days |
| dozen | n/a | $41.00 | $5.00 | none/boxed | 3 – 4 days |
Chokladnötkaka
Pistachio Cake
Drømekage
Lingonberry Coffeecake
Pepparkakor Cake
Cupcakes
Just Bananas Bread
Chocolate Ginger Pumpkin Bread
Croissants
Challah Bread
Limpa Bread
Gluten Free Pumpernickel
Just Bananas Bread
hearty, moist bread sweetened only with bananas and a hint of sugar in candied ginger. Also available in a chocolate version. Thick (1 1/2″) slices.
V, GF, SF | Storage: Refrigerated or frozen
| | | | | | |
| --- | --- | --- | --- | --- | --- |
| Unit Size | Units/Case | Price/Case | Suggested Retail/Unit | Packaging | Max Shelf Life |
| loaf (9 thick slices) | n/a | $32.00 | $4.00 | none/boxed | 5 days |
Chocolate Ginger Pumpkin Bread
Croissants
Challah Bread
Limpa Bread
Gluten Free Pumpernickel
Seasonal Scones
Muffins
Cinnamon Rolls
Almond Raspberry Danish
Hazelnut Pan au Chocolat
Seasonal Fruit Danish
Cardamom Buns
Seasonal Scones
Ex. tarragon vanilla, strawberry shortcake, blackberry basil, fig walnut, pumpkin spice, lemon pear
V, SF, (mostly) GF | Storage: Room temp, freeze for longer holding up to 6 months
| | | | | | |
| --- | --- | --- | --- | --- | --- |
| Unit Size | Units/Case | Price/Case | Suggested Retail/Unit | Packaging | Max Shelf Life |
| dozen | n/a | $27.00 | 3.00 – 3.50 | none/boxed | 3 days |
Muffins
Cinnamon Rolls
Almond Raspberry Danish
Hazelnut Pan au Chocolat
Seasonal Fruit Danish
Cardamom Buns
Smörgås to Go
Kale Salad
Carrot Lox
Smörgås to Go
Open faced sandwiches, individually boxed.
V, GF, SF | Storage: Refrigerated
| | | | | |
| --- | --- | --- | --- | --- |
| Units/Case | Price/Case | Suggested Retail/Unit | Packaging | Max Shelf Life |
| 10 | $45.00 | $6.00 – $7.00 | boxed individually | 3-5 days |
Kale Salad
Carrot Lox
*Minimum order $100
Delivery Fee of $10 likely to be incurred
Dietary Code
V = vegan | GF = gluten free | SF = soy-free